This is an archived article and the information in the article may be outdated. Please look at the time stamp on the story to see when it was last updated.
SAN DIEGO -- A five-county procession took place Sunday for a San Diego firefighter who died battling the Thomas Fire, officials said.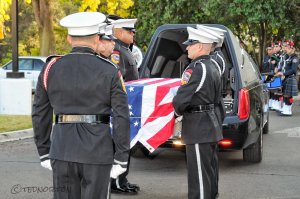 Cory Iverson, 32, was a fire engineer for Cal Fire San Diego. He was killed Thursday near Fillmore, falling victim to thermal injuries and smoke inhalation, according to autopsy results released Saturday by the Ventura County Medical Examiner's Office.
Thousands turned out to see Iverson's procession on its route through Ventura, Los Angeles, San Bernardino and Riverside counties back to San Diego.
"We talk a lot with the cub scouts about heroes and so he's a hero. I don't know him, but it just gets to me because he's a dad. He has a baby on the way and also a two year old so it just pulls on me so it just put a call to come and honor this gentleman," said Juan Hernandez, a scout leader at an overpass with his troop.
The procession in his honor began at 10 a.m. Sunday at the Ventura County Medical Center and traveled through the Los Angeles area before stopping at a temporary staging point in Chino, according to Cal Fire. It has moved onto the Interstate 15 corridor and arrived at El Camino Memorial around 3:30 p.m.
Iverson is survived by his wife, Ashley Iverson, a two-year-old daughter and a second daughter who is due in the spring.
A GoFundMe campaign created for Iverson's family called him "a true hero to our Southern California community." By Saturday, it had raised more than $300,000 -- surpassing an initial goal of $150,000, which has been raised at least twice to $500,000.
Iverson, who had been with Cal Fire since 2009, left behind a wife and a 2-year-old daughter. His wife, Ashley Iverson, is also pregnant with the couple's second child.
A memorial for Iverson will be held at The Rock Church in Point Loma at 10 a.m. on Saturday, Dec. 23.
5 county procession is underway for San Diego firefighter Cory Iverson who died battling the Thomas Fire. Fire engines and firefighters waiting for his arrival at El Camino Memorial Park. @fox5sandiego pic.twitter.com/mNjhpDuHAp

— Felicia Martinez (@FeliciaKSL) December 17, 2017
The procession for fallen hero Cory Iverson has made it to Chino, where rows of fellow firefighters and some 50 civilians were waiting to honor him. pic.twitter.com/Yhfq7SDLSV

— Brooke E. Staggs (@JournoBrooke) December 17, 2017