This is an archived article and the information in the article may be outdated. Please look at the time stamp on the story to see when it was last updated.
LAKESIDE, Calif. – San Diego Sheriff's Department is investigating allegations of man following a group of El Capitan High School students and threatening another with a knife, according to school officials.
A letter sent to parents and students by El Capitan High School principal Laura Whitaker Tuesday warned them of a suspicious man allegedly t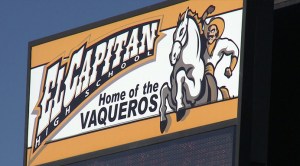 hreatening students.
A group of girls on their way to school were followed by a man near a bus stop by Highway 8 Business and Los Coches Road around 6:10 a.m. Wednesday, according to the principal.
After the students noticed the man, they ran to the Lamplighters Los Coches Mobile Home Park, Whitaker said.
A boy walking to school saw the situation and confronted the suspect, the principal said. The suspect threatened to use a knife against him.
The boy ran to the mobile home park where he and the other students called the Sheriff's Department.
Students described the suspect as a dark-skinned man that is around 6-feet tall. He was wearing a hoodie and baggy pants and he walked with a limp.
As a precautionary measure, Whitaker said students should walk with a friend or group for safety.
Anyone with information about the incident or suspect has been asked to call 858-565-5200.