This is an archived article and the information in the article may be outdated. Please look at the time stamp on the story to see when it was last updated.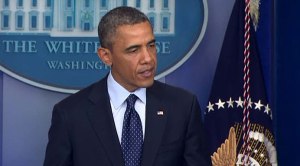 WASHINGTON (CNN) — Surrounded by middle-class Americans, President Barack Obama touted the successes of his signature health care law and how consumers are seeing tangible benefits.
"Because of the Affordable Care Act, insurance companies have to spend at least 80% of every dollar that you pay in premiums on your health care; not on overhead, not on profits, but on you," the president said during an event Thursday in the White House East Room..
The president highlighted a provision in the law that forces health care providers to refund money to consumers like Chicago resident Dan Hart, a father of two who got a check in the mail for $136.
"As any parent will tell you, those kids, they suck up a lot of money," the president joked. "So he used his rebate to pay some bills."
According to the White House, 8.5 million people got an average of a $100 in rebates last year.
The president chided House Republicans for trying to repeal the health care law nearly 40 times even though there are other big issues on the table, like immigration reform, to address.
"We're refighting these old battles," he said. "Sometimes I just try to figure out why. Maybe they think it's good politics."
But Republicans argue the problem is bad math.
"The picture that the president paints of his health care law looks nothing like the reality facing struggling American families," House Speaker John Boehner said in a statement.
Boehner and other Republicans have come to refer to Obamacare as a "train wreck."
Obama acknowledged the persistent political hurdles.
"I recognize that there are still a lot of folks — in this town, at least — who are rooting for this law to fail," the president said,"If the folks who have been trying to make political hay out of this thing, if they had some better ideas, I've already told them I'm happy to hear them. But I haven't heard any so far."