This is an archived article and the information in the article may be outdated. Please look at the time stamp on the story to see when it was last updated.
MCAS MIRAMAR, Calif. — President Barack Obama arrived in San Diego just before noon Thursday for a congressional fundraiser in La Jolla.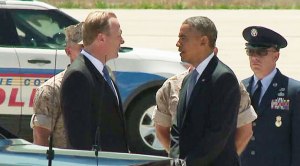 Air Force One touched down at MCAS Miramar at 11:50 a.m. following a short flight from Los Angeles. On the tarmac, the president greeted Marines and shook hands with members of their families, posed for photographs and spoke to San Diego Mayor Kevin Faulconer.
Obama traveled by motorcade the La Jolla home of Qualcomm co-founder Irwin Jacobs. Residents and
House Minority Leader Nancy Pelosi is scheduled to join Obama at the $10,000-per-person lunchtime fundraiser in La Jolla to benefit the Democratic Congressional Campaign Committee. Couples who donate $32,400, the legal maximum, will be invited to a VIP reception and photo opportunity.
Jacobs, whose estimated net worth is $1.6 billion, was one of the top five financial supporters of Obama's 2012 re-election campaign. He stepped down as chairman of Qualcomm — the mobile chip maker — five years ago.
The Obama administration announced new proposals this week designed to attract and retain highly skilled immigrants, among the top wishes of high-tech companies like Qualcomm. The new regulations would remove obstacles to the immigrants remaining in this country and extend employment authorization to their spouses.
Outside the fundraiser, an environmental group is scheduled to rally in opposition to the proposed Keystone XL pipeline. San Diego 350 contends the pipeline, which would carry oil from Canada to Texas for refining, will increase greenhouse gas emissions and worsen the impacts of climate change.
Obama has delayed a decision on whether to approve the project for several months.
The La Jolla fundraiser will be the second of Obama's four fundraisers in three metropolitan areas today.
Obama is scheduled to begin his day by presiding over what The Hollywood Reporter described as an intimate "roundtable" discussion at in Beverly Hills, benefiting the Democratic National Committee, with a top ticket price of $32,400, the maximum amount that can be given to a party committee in a calendar year under federal law.
From San Diego, Obama will fly aboard Air Force One to San Jose, where he will participate in two fundraisers for the Democratic National Committee.