This is an archived article and the information in the article may be outdated. Please look at the time stamp on the story to see when it was last updated.
SAN DIEGO – The hometown spotlight couldn't possibly be any brighter on Saint Augustine's senior guard Trey Kell.
At 6 feet, 4-inches and weighing 220 pounds, Kell averages 23 points, nine rebounds and over five assists per game. He's committed to join San Diego State's team next year and is gaining attention from the local community.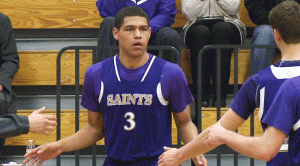 "It's great. Every game, there are people who come from around town that support San Diego State to see how good I am, I guess, to see how I fit in with state. I get positive feedback all the time," Kell said.
"There's a lot of pressure with staying home," said his Saints coach Mike Haupt. "There are a lot of expectations. He knows everyone's out there trying to get him, but he goes out and does what he's supposed to do. He's very calm but also very competitive."
Kell had the option to leave his hometown to play for a number of historic programs, including UCLA, but he based his final decision on three people: his mom Heidi, father Earl and 9-year-old sister Talaya.
"I felt like that was something I could give my parents – they love watching me play. They've been with me throughout my basketball career. They've probably missed like 5 games, so I wanted to give them that opportunity."
After he led the Saints to a Division III state title last season, Kell received an invite to join the top 80 high school players in the country for one week at Lebron James' Skills Academy.
"That was crazy," Kell said with a big smile. "LeBron is really big once you see him in person. He looks big on TV, but he's even bigger in person."
Kell insists his focus remains on helping the Saints claim San Diego's first open division title before moving on, though there's nothing wrong with a little day dreaming of putting on a show, in front of the show, at Viejas arena.
"Sometimes when I'm at the games, I can see the crowd getting wild," he said. "I just imagine myself doing something to get the crowd that wild, and that's really cool."