This is an archived article and the information in the article may be outdated. Please look at the time stamp on the story to see when it was last updated.
SAN DIEGO — Priest Jeffrey Newell has been suspended by the Catholic Church for sexually abusing children in Tijuana. This is the second time Newell has been sanctioned for his actions.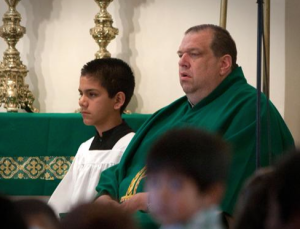 Years ago, Newell was involved in the Los Angeles sexual abuse scandal. His victims were promised he'd never be allowed near children ever again. It turns out he had been working in a Tijuana church since 2010.
After a number of allegations, a team of Vatican investigators arrived in Tijuana to look into complaints against Newell and 17 other priests. Seven of them, including Newell, were relieved of their duties.
With disciplinary action pending, Newell fled Tijuana and is reportedly back in California, possibly San Diego.
Richard Sipe, who has researched priest abuse for decades, says the Catholic Church continues to shuffle predator priests, only now, exporting the problem to Latin American countries such as Mexico.
"Offending priests are getting sent internationally, Mexico gets a great deal of this kind of influx, said Sipe.