This is an archived article and the information in the article may be outdated. Please look at the time stamp on the story to see when it was last updated.
Don't bother telling Wednesday night's Powerball winners — if there are any — that a lottery is just a tax on those who flunked math. With a winning ticket in hand, or even just the dream of one, who cares if the odds against them exceeded 175 million to 1?
Last-minute ticket-buying pushed the jackpot to $579 million, which is how much a single winner would get if he or she took the money in annual payments over 30 years.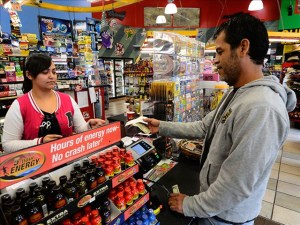 The winning numbers: 5-16-22-23-29, and the Powerball:  06
Officials couldn't say immediately after the 8 p.m. drawing whether there were any winning tickets. But beforehand, officials had said there was a 75 percent chance that someone would win Wednesday night.
No one had won since Oct. 6, causing the jackpot to roll over 16 times. It  grows at least $10 million every time no one wins, lottery officials said.