This is an archived article and the information in the article may be outdated. Please look at the time stamp on the story to see when it was last updated.
ESCONDIDO, Calif. – At a packed meeting Tuesday night, the Escondido Planning Commission unanimously rejected a request by the federal government to open a shelter for unaccompanied immigrant children who illegally entered the U.S. from Mexico and Central America.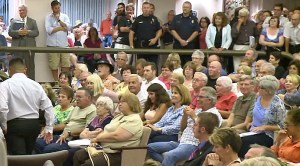 Before the 7-0 vote, many members of the overflow crowd addressed the panel. Most urged the commission to block the shelter.
Southwest Key, a nonprofit organization from Texas that provides alternative shelters to immigrant children, recently secured a lease at the old Palomar Continuing Car Facility on Avenida del Diablo in Escondido. It proposed operating a shelter there under contract with the U.S. Department of Health and Human Services.
Escondido Mayor Sam Abed told Fox 5 he doesn't have much information about Southwest Key's plans.
"We are trying to find information about this," said Escondido Mayor San Abed. "There is no plan whatsoever except that we`re going to provide them with services in a prison-like facility."
Southwest Key's unaccompanied program assists detained minors ages 6-17 by providing shelter services and encourages various development skills, including personal, social, academic and vocational while they await reunification with their families.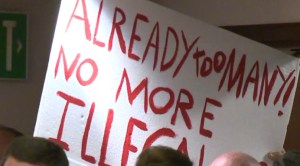 The number of children entering the US from El Salvador, Guatemala and Honduras has more than doubled since 2013, according to the Los Angeles Times.
The mayor said he doesn't like what he sees and is concerned that the immigrants housed at the facility won't be required to have criminal background checks and health screenings.
"They can lease anything they want, but they can't use it until we approve it," Abed said.
Escondido resident Kitty Demry said Southwest Key is going to turn it into a federal detention facility for juveniles. She wants to pull the plug on their plans.
"It's not here, I don't agree that they should be here," Demry said.
Demry said this type of facility is not only inappropriate, but it will hurt more than help.
"Let's be humanitarian. Let's find something that's appropriate space wise for these kids and not put them in Escondido."
Few people at Tuesday's meeting spoke out in favor of the facility. A 22-year Marine veteran Luis Ramiro believes the children deserve a chance.
"If you don't pass this thing, Escondido is going to continue being the armpit of the immigration of the west coast," Ramiro said.