This is an archived article and the information in the article may be outdated. Please look at the time stamp on the story to see when it was last updated.
SAN DIEGO —  A freeway crash involving two San Diego women is under investigations as a possible case of road rage, the California Highway Patrol said Monday.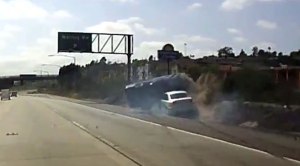 The crash happened just before 4 p.m. Saturday on westbound Interstate 8 between College Avenue and Waring Road. Kelsey Shakespeare, 21, was driving a silver Jetta and Stephanie Pontarolo, 33, was driving a green Tacoma pickup. The two drivers got involved in an altercation of some sort, according to the CHP Officer Jake Sanchez.
The Tacoma pulled alongside the Jetta and veered to the right, hitting the Jetta, Sanchez said. Both vehicles crashed off the freeway onto the right shoulder, and the Tacoma overturned on its side.
Pontarolo suffered minor cuts and scrapes to her face, arm and foot, while Shakespeare complained of back pain, Sanchez said.
Investigators were trying to determine the nature of the altercation that preceded the crash. They have initially classified the crash as an accidental collision, but if they determine that the pickup driver intended to harm the driver of the Jetta, charges could range from attempted murder to assault with a deadly weapon, Sanchez said.
The crash was captured on the dash camera of a car that was following the two vehicles. The video, which was posted on YouTube,  shows the pickup following the Jetta. It then moves into the lane to the right of the Jetta, pulls ahead and abruptly veers to the right, striking the front of the Jetta. Both cars go out of control and crash on the side of the freeway.