This is an archived article and the information in the article may be outdated. Please look at the time stamp on the story to see when it was last updated.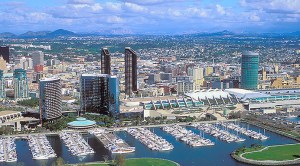 SAN DIEGO — The Port of San Diego Friday will launch a special 14- week bus service to improve the job it's doing shuttling visitors and area residents around popular bay hotels and attractions.
The so-called Big Bay Shuttle will start up at 10 a.m. and run on a loop from the Embarcadero to Harbor Island. The shuttles are marked with a "Big Bay" logo and operate with compressed natural gas, making them more environmentally friendly, according to port officials.
The cost for each rider is $3 per day, port officials said.
Stops will be made at the Hilton Bayfront San Diego, the San Diego Marriott Marquis & Marina, the Manchester Grand Hyatt, Seaport Village, Broadway Pier/Navy Pier, the Wyndham San Diego Bayside, the Maritime Museum of San Diego and the Sheraton San Diego Hotel & Marina on Harbor Island.
The shuttle will service the eight stops through Monday, Sept. 2, running from 10 a.m. to 8 p.m. Sunday to Thursday, and from 10 a.m. to 10 p.m. on Fridays and Saturdays.
The Big Bay Shuttle is being operated through a partnership with Ace Parking Management, according to the port. The agency conducted a four-month trial run last year in which 20,000 passengers rode the Big Bay Shuttle.