This is an archived article and the information in the article may be outdated. Please look at the time stamp on the story to see when it was last updated.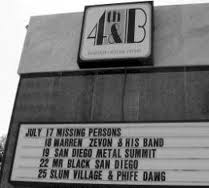 SAN DIEGO – The popular downtown concert venue '4th & B'  unexpectedly shut its doors and tickets to scheduled events were refunded.
Wednesday night, 'Public Enemy' was scheduled to perform there and fans couldn't wait.
"I'm so excited," said Jovel Downer of Downtown San Diego.  "I used to listen to them back in the day in New York, so it's good to see them out here."
Flyers promoting the live appearance of 'Public Enemy' beginning at 9:00 pm are still posted on the front doors of '4th & B' despite the doors being locked and the lights turned off at that time.
"I was disappointed because you know '4th & B' has brought a lot of good artists to town, and it's kind of like a shock why all of a sudden are they shutting down," said a fan who identified himself as Boombox Chuck.
Wednesday night's performance was relocated to 'The House of Blues' two blocks away.
"I think it was messed up, but the people should know that they moved the venue and it's here," said Public Enemy's The Drew standing outside the new location.
"It's great to be here coming from Jackson Hole and Aspen in the winter time.," said the group's Chuck D.  "It feels great, I'm a native Californian.  So you know what, we're here.  It's going to be the greatest show you're going to hear."
What will happen to '4th &B' remains to be seen.  It's being reported that a dispute between the owners of the venue and the lease holder of the building may stop other acts from performing there until their differences can be worked out.