This is an archived article and the information in the article may be outdated. Please look at the time stamp on the story to see when it was last updated.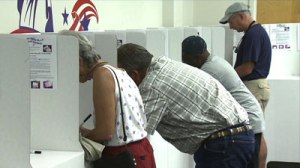 SAN DIEGO — Proposed City Charter amendments about the timing of elections and inaugurations could go before San Diego voters next year, following action Wednesday by the City Council's Rules and Economic Development Committee.
City Clerk Elizabeth Maland said the changes are necessary to bring the charter into conformance with state law.
The first proposal is to set Inauguration Day for Dec. 10, unless it falls on a weekend, in which case it would be the following Monday.
The charter currently schedules inaugurations for the mayor and City Council members on the first Monday following the first day of December. Last year, it was Dec. 3.
The problem with the current system is that it would be 27-34 days following the general election, and the state allows county registrars of voters 28 days to certify the results, said Deputy City Clerk Bonnie Stone, who coordinates elections for the city. The Legislature is considering giving registrars two extra days, she said.
The Dec. 10 date would be 32-38 days after a November election, she said.
"Consequently, having a date-certain of December 10th remedies the potential for conflict with state law by providing the city a little wiggle room between the time the registrar must complete the final canvass and the time our elected officials' terms must begin," Stone told the committee members.
She also said the change would also provide more consistency in the length of terms in office, which currently vary depending on how the calendar sets up.
Maland said she also wants the City Charter to allow more time between a special election and subsequent runoff.
The charter currently demands a runoff vote within 49 days, but the time frame of certain state requirements adds up to 84 days, she said.
She asked for the City Charter provision to be changed to "as soon as possible" within 90 days.
The committee members directed the City Attorney's Office to develop ballot language for an initiative targeted for the June 2014 primary election. The language would come back to the committee in January for initial approval.