This is an archived article and the information in the article may be outdated. Please look at the time stamp on the story to see when it was last updated.
SAN DIEGO — Will the Chargers leave San Diego if Measure C fails?
Team management is asking San Diego voters to approve the measure, which would increase the city's hotel room tax to fund a new downtown football stadium. Kathleen Bade asked team owner and chairman Dean Spanos what he planned to do if voters reject the measure.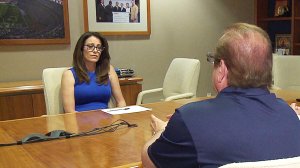 KATHLEEN BADE: "Dean, if you don't get the two-thirds vote, which everybody says trying to get 60 percent of anything is a really steep hill to climb, if you meet that 50 percent threshold, or is there a number that you are looking at that would be encouraging enough for you to stay and fight another day to get a stadium?"
DEAN SPANOS: "I'm really looking at the support we're going to get or not get. If we get 30 or 35 percent voter approval, that will tell me something. If we get 55 to 60 percent, that's pretty compelling. That will tell me something else. But until Tuesday comes and we see the actual vote, there is no Plan B, there is no second strategy in terms of 'If I get 50 plus one, this is what I'm going to do.' I want to wait and see what the outcome is and then I'm going to take my time afterwards and decide what I want to do."
KATHLEEN BADE: "Some people are looking at Measure D as a plausible Plan B. Are you urging voters to vote Yes on both of those measures?"
DEAN SPANOS: "I'm urging everyone to vote Yes on Measure C. Measure D is separate for us."
KATHLEEN BADE: "But doesn't that give you another option if Measure D is passed?"
DEAN SPANOS: "That's a very, very complicate potential option. I think maybe. But you're talking years and years, and as Jerry (Sanders) said, it's going to be mired in litigation for quite some time."
KATHLEEN BADE: "If Measure C passes, there could still be a lot of hurdles to come: lawsuits, and environmental impact issues and those kinds of things. Can you tell San Diego voters that you are going to be committed if Measure C passes, no matter what comes?"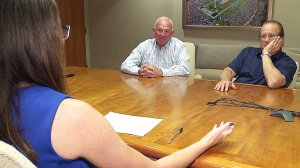 DEAN SPANOS: "Without a doubt. We get a two-thirds vote, we're committed, we're here for the long haul to get it done. And as you said, there's a tremendous amount of work to be done, setting aside the litigation. The acquisition of the land downtown, the movement of the bus yard to a different location — there's all sorts of things that have to take place subsequent to a positive vote. But we are 100 percent committed if we get a two-thirds vote."
KATHLEEN BADE: "I want to ask you about your stadium point man, Fred Maas. He was quoted as saying for you that the worst deal in L.A. is better than the best deal here, and most financial reports agree with that notion. So why put yourself through this and get behind Measure C?"
DEAN SPANOS: "I've always said that this is where we want to be. I think the Chargers should be in San Diego. They've been here for 50-plus years.
'This is an opportunity for us. It may not be economically as viable as Los Angeles, and that's great. We're willing to take less. We just want to put ourselves in a position for the next 25 to 30 years that we can be economically competitive with the rest of the teams in the league. It's not about trying to make the most money. If that was the case, we would have left a long time ago."
KATHLEEN BADE: "At the end of the day, this is a family business. I grew up in a family business. I know what all the sentiment is that's wrapped up in something like this. You built this with your dad. You want to pass it along to your children. Voters know what you think about Measure C. How do you feel?"
DEAN SPANOS: "I feel good. The support in the last seven, eight months has been tremendous in the community. I've had fan support, the Chamber of Commerce. Some people have really taken some leadership roles and stepped forward. So that makes you feel really good. You know, this is an emotional thing for me obviously, and for my family. I've been here almost half my life now, so I can't imagine not being in San Diego. So I'm trying to be as optimistic as I can, and I am, and we'll see what happens on Tuesday."
KATHLEEN BADE: "You've been her for 55 years. Are you really prepared to leave if Measure C doesn't pass?"
DEAN SPANOS: "Well look, I'm not going to think about anything like that. Right now, my focus is on Tuesday night. We need to get the voters out to support Measure C and hopefully this thing will pass."