This is an archived article and the information in the article may be outdated. Please look at the time stamp on the story to see when it was last updated.
OCEANSIDE, Calif. – Mayor Jim Wood was voted off of his county board position by his own city council Wednesday evening.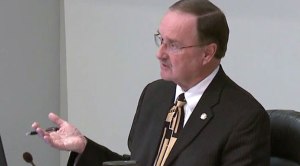 Oceanside City Councilman Gary Felien moved to have Wood removed from his position with the San Diego Association of Governments Board of Directors during a meeting Wednesday.
"We feel it's important that we have someone representing the city on SANDAG, that's going to fight for the critical transportation projects we need here in Oceanside," said Felien.
The council passed the amendment with a 3-2 vote.
Mayor Wood said Felien is only looking out for big business and voters are being drowned out by a couple of hardliners.
"I won the last election with a landslide and they said they didn't care. They were going to remove me from the county boards anyway," said Mayor Wood. "They are very right wing. They don't agree with me so that's why we have a split vote."
Jack Feller will be his replacement.