This is an archived article and the information in the article may be outdated. Please look at the time stamp on the story to see when it was last updated.
SAN DIEGO -- With protests happening across the country including at San Diego's Lindbergh Field, people in the north county of San Diego made their voices heard Sunday as well.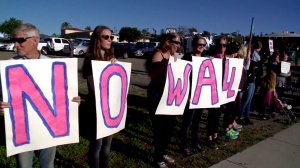 More than 200 protesters gathered near Vista Village Drive and North Santa Fe Avenue in Vista, crying out chants including "No hate, no fear, immigrants are welcome here."
"Everyday you wake up and just when I'm starting to calm down again, it's like getting knocked over by another wave. Honestly, despite the fact that Donald Trump and his campaign said he was going to do all these things, I guess never believed in this nation it could happen," said Oceanside resident Caroline Theiss-Arid.
President Donald Trump signed an executive order Friday to suspend all refugee entries for 120 days, indefinitely blocking all Syrian refugees. The executive order also barred entry for 90 days to all immigrants from Iran, Iraq, Libya, Somalia, Sudan and Yemen.
Concerned citizens and organizations like the North County Immigration Task Force banded together to organized the protest on Facebook. About 140 people committed online, but more showed up in person to fight for immigration rights and to oppose Trump's ban and a border wall.
Some protesters told FOX 5 they would like to see people love their neighbors, not create more hate.
"I think the biggest danger of Trump is his unpredictability," said one protester.
"As a person of faith, these bans run counter to my faith values. It is not biblical. The Bible calls us to welcome the stranger and support those that are different than us," said Pastor Anna Runion, who joined in the protest.