This is an archived article and the information in the article may be outdated. Please look at the time stamp on the story to see when it was last updated.
SAN DIEGO — San Diego mayoral candidate Nathan Fletcher and his mother said in an interview made public Monday that the former assemblyman was physically, mentally and verbally abused by his biological father when he was young.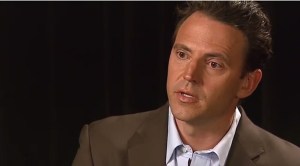 Fletcher and Sherrie Graham made the allegations in a videotaped interview with Joanne Faryon of inewsource.org, a nonprofit news organization based at San Diego State University that partners with KPBS.
Graham said she divorced Randy Fletcher when their son was a toddler and moved him from Carson City, Nev., to Smackover, Ark. However, the father gained custody following a court battle.
Nathan Fletcher said the first couple of years were okay, but it got progressively worse.
"He wasn't a good person," a subdued Fletcher said. "It was an environment that over time became a living hell. In the last year in particular I was there (it) was really bad."
Asked whether he was hit by his father, he said, "Yeah, he was abusive physically and mentally and verbally. It was something I wouldn't want any person, any child, to have to go through."
Graham said she saw bruises on her son when he was 7 or 8 years old, and the boy's father sent him back to his mother shortly after.
Nathan Fletcher — now a 36-year-old Qualcomm executive — said he didn't understand the abuse then or now. He said he granted the interview to clarify the record about his childhood.
Fletcher trails City Councilman Kevin Faulconer by 41 percent to 28 percent in a SurveyUSA poll conducted for 10News and U-T San Diego that was released Sunday.
Councilman David Alvarez was third with 17 percent, followed by ex-City Attorney Mike Aguirre with 7 percent.
If no one in the Nov. 19 special election wins more than 50 percent of the vote, the top two vote-getters would face each other in a runoff early next year.
In another poll released Sunday, conducted on behalf of the San Diego and Imperial Counties Labor Council, Fletcher was third with 21 percent behind Faulconer, with 34 percent, and Alvarez, with 22 percent. The umbrella group for local unions backs Alvarez.
Fletcher today kicked off what his campaign described as a two-week tour to highlight San Diego's biggest needs. The first stop was lifeguard headquarters, where he discussed issues of public safety on beaches and waterways.
Alvarez, meanwhile, was scheduled to lead an afternoon rally at City Hall in favor of a large increase in fees on commercial developers that will be considered by the City Council. Revenues from the fees pay for affordable housing projects.