This is an archived article and the information in the article may be outdated. Please look at the time stamp on the story to see when it was last updated.
SAN DIEGO — Bob Filner has filed a document that says he received 13 gifts worth a total of nearly $12,000 from a variety of organizations when he was mayor of San Diego, it was reported Tuesday.
The gifts were reported on a required statement of economic interests covering the first nine months of this year, which he filed Monday.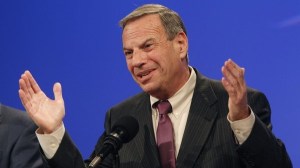 The largest was $9,839 from the Organization of Iranian-American Communities, which paid for a trip to the group's event in Paris in June.
The overseas visit led to one of several scandals that led Filner to resign Aug. 30. It was never made clear how much of the trip was for city business, and taxpayers had to pick up a $20,000 tab for his police security detail.
Because the organization was not properly registered as a nonprofit organization in the U.S., Filner promised to return the money. However, because he was to make the reimbursement as a private citizen, it's unclear if it was ever made.
Other gifts were to galas, paid for by the U.S. Chamber of Commerce, American Israel Public Affairs Committee, the Downtown San Diego Partnership, the San Diego County Democratic Party, the Neighborhood Market Association, the Girls Think Tank, and the San Diego Fukienese Association — which refers to a province in southeastern China.
Lobbyist Nancy Chase paid for a ticket for Filner to attend the annual San Diego County Taxpayers Association dinner.
Filner also received a ticket to a production at the Birch North Park Theatre, two University of San Diego baseball tickets from the school and a San Diego Padres baseball ticket from Coronado resident Frank Tierney.
The last gift reported by Filner came on June 21, a few weeks before women began going public with his alleged sexual harassment.
The filing was first reported by U-T San Diego, which said he dropped the form off in person at the City Clerk's Office.