This is an archived article and the information in the article may be outdated. Please look at the time stamp on the story to see when it was last updated.
SAN DIEGO — Former San Diego Mayor Bob Filner was in no mood to talk with the media as he arrived Wednesday morning downtown for a deposition in another sexual harassment suit he's facing.
Filner refused to answer questions outside the offices of Dan Gilleon, the attorney representing former city parks director Stacy McKenzie.
"It really didn't take that long because he said he didn't remember the actual incident – which occurred on April 21, 2013," said Gilleon, referring to a city event at North DeAnza Cove in Mission Bay. Filner allegedly grabbed McKenzie from behind, put her in a headlock, rubbed her breasts and asked her on a date.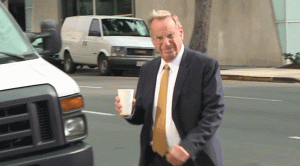 As he held McKenzie, Filner allegedly asked two other female city employees, "Isn't she great?" He then said to all three women, "Just to let you know, I like to get really close to my city employees," according to the lawsuit.
Gilleon helped create an animated video that depicts the encounter — with McKenzie also being put in the infamous "Filner Headlock." Gilleon described the former mayor as "calm" during the 90-minute deposition.
"He reiterated what he said in his 'mea culpa' – which it appears he had offended people, offended women. He also reiterated what he said in his resignation – that he didn't think he sexually harassed anybody," Gilleon said.
The lawsuit is seeking $500,000 in damages, but Gilleon said his client is willing to settle.
Filner's former communications chief, Irene McCormack Jackson, also sued the mayor and the city. The litigation was settled earlier this year for $250,000.
About 20 women came forward last year to allege that Filner made inappropriate advances toward them over his years in politics.
In a criminal case, Filner pleaded guilty to sexually harassing three women and was sentenced to probation and three months of home confinement.
The City Attorney's Office, which is defending against the lawsuit, did not immediately respond to a request for comment.