This is an archived article and the information in the article may be outdated. Please look at the time stamp on the story to see when it was last updated.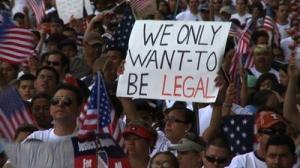 SAN DIEGO — The San Diego City Council's Rules and Economic Development Committee Wednesday approved a resolution in support of a pathway to citizenship for illegal immigrants.
Democrats prevailed in the 3-2 vote that was split along party lines. The resolution, which is largely symbolic, requires the approval of the full City Council.
Republicans Kevin Faulconer and Mark Kersey, whose attempts to introduce their own resolution and amend the Alvarez document were rebuffed, cast the dissenting ballots.
Committee Chairwoman Sherri Lightner said a GOP version would be considered at another time.
Alvarez said the language of the resolution was purposely vague, but the gist of it was to enable immigrants already in this country a way to stay here.
"We purposefully left out all the other intricacies of all the discussions because we could get really, really detailed and make this really, really long, or we can say together that at the epicenter of immigration reform — of this civil rights issue — is a pathway to citizenship," Alvarez said.
The resolution states that the City Council "supports a reasonable and comprehensive approach to reforming the currently broken immigration system that is in the best interest of this country we all love."
It also calls for keeping families together and providing a "reasonable" pathway to citizenship that's not tied to border security, especially for those who were brought to the United States as children and grew up in this country.
The resolution refers to "shortsighted border enforcement strategies that add extra obstacles and burdens to full reform."
Alvarez said he would discuss with Faulconer and Kersey a competing resolution.
The resolution from City Council Republicans supports "a reasonable and practical plan that allows unauthorized immigrants currently residing in the United States to earn legal status and is contingent upon successfully securing the nation's borders."
It also backs a system for employers to verify if job applicants are in the country legally and "aggressive accountability measures" for companies that knowingly hire illegal immigrants.
Alvarez objected to "legal status" in place of a "pathway to citizenship." He said he believed border security is good enough.
Eight U.S. senators, four Democrats and four Republicans, are drafting new federal legislation governing immigration and border security.