This is an archived article and the information in the article may be outdated. Please look at the time stamp on the story to see when it was last updated.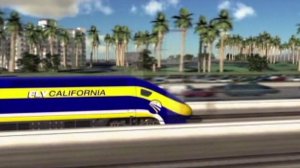 California's controversial bullet train would receive hundreds of millions of dollars in the coming year under a budget deal reached by Gov. Jerry Brown and lawmakers Thursday, a critical step toward beginning construction as the project continues to face legal and political challenges.
The agreement is one of several reached as the spending plan continued to take shape ahead of Sunday's deadline. Democratic lawmakers successfully fought the governor's proposal to cap how many hours caregivers could work in the state home care program, but they were unable to secure extra money for court operations or increase payments to doctors who serve poor patients enrolled in government healthcare.
Bullet train funding had been a sticking point in budget negotiations. The money would be drawn from the cap-and-trade program, which charges fees to polluters who emit greenhouse gases above certain limits. Under the budget deal, $250 million would be allocated to high-speed rail in the next fiscal year, which begins July 1. In each following year, the bullet train would receive 25% of cap-and-trade revenue.
The final figures represent a compromise between Brown, who wanted 33% for the train, and Democratic lawmakers, who offered 15%.
Cap-and-trade could provide billions of dollars for the bullet train over the next several years, a relatively small chunk of the project's overall $68-billion price tag. However, the money would arrive at a critical time. Voter-approved bond funding has been stalled by lawsuits, and the state needs to begin matching federal grants with its own dollars next month.
H.D. Palmer, spokesman for Brown's Department of Finance, said the governor is pleased that the budget includes "an ongoing source of funding to move this project forward."
The cap-and-trade program provides the "single largest new source of capital into our budget," said Assemblyman Richard Bloom (D-Santa Monica), and the money is required by law to be spent on programs that reduce greenhouse gas emissions.
Apart from the 25% earmarked for high-speed rail, the budget deal would direct 35% of cap-and-trade funds to other transit projects and affordable housing. The rest of the money would be available for initiatives involving natural resources, energy efficiency and cleaner forms of transportation.
A final vote on the budget is scheduled Sunday. Once approved, it goes to the governor, who can veto spending he doesn't like.