This is an archived article and the information in the article may be outdated. Please look at the time stamp on the story to see when it was last updated.
SAN DIEGO — Authorities put out a call Wednesday for any additional amateur video footage of a traffic accident that injured several pedestrians last month during a Comic-Con-related "zombie walk" in the Marina area.
The crash occurred about 5:30 p.m. July 26, when a motorist tried to drive away from the intersection of Island and Second avenues after waiting for as long as 10 minutes as a raucous group of people portraying roaming corpses passed by, according to San Diego police.
"The car windshield was shattered by the crowd," SDPD Officer David Stafford said. "The family was scared, so the father drove forward … trying to get away from the angry crowd."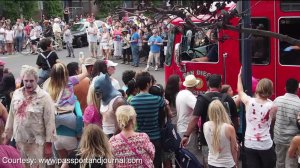 The black Honda sedan struck three or four people, including a 64-year- old woman who fell underneath it. She was most seriously injured, and at least one of the other victims sustained minor bruises.
The driver, who is deaf, immediately contacted police to report what had happened, Officer Mark McCullough said.
Several passers-by took cell-phone video of the accident. Traffic detectives are hoping to find any other footage that witnesses may have shot but haven't brought forward, McCullough said.
The investigation is ongoing, and it remains unclear if the motorist will be cited.
Anyone possessing images of the encounter was asked to call SDPD communications at (619) 531-2000 and provide the case code word "Info-T."