This is an archived article and the information in the article may be outdated. Please look at the time stamp on the story to see when it was last updated.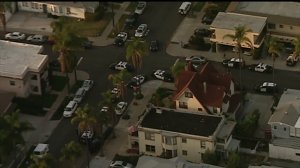 SAN DIEGO – Police surrounded a house in Hillcrest after an armed man threatened to commit suicide, authorities said.
The man barricaded himself inside the house around 5 p.m. on 3600 block of 3rd Avenue near Pennsylvania Avenue, according to San Diego Police officer said.  He was taken into custody at 6:30 p.m.
Traffic in the area was diverted away from the block and residents in nearby homes were evacuated.
Additional officers were requested to help secure the area. The suspect has a history of making threats, authorities said.