This is an archived article and the information in the article may be outdated. Please look at the time stamp on the story to see when it was last updated.
SAN DIEGO — A parolee wanted on an arrest warrant locked himself in a Golden Hill home Tuesday when police contacted him, prompting a SWAT standoff and road closures in the area.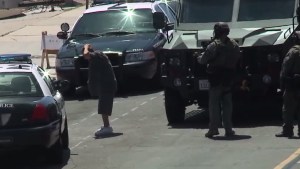 The suspect slammed the front door of a motor home parked in the 2700 block of Broadway "in (an) officer's face" and was believed to be holed up inside shortly after 9:30 a.m., SDPD spokesman Matt Tortorella said. By 12:30 p.m., four SWAT officers were seen walking into the motor home and exiting a minute later without the suspect.
Here's what it looks like at the police standoff in #GoldenHill. Watch live video: http://t.co/RXnXlxypXf pic.twitter.com/RhzaEwHNNM

— FOX 5 San Diego (@fox5sandiego) July 14, 2015
Patrol personnel closed down the street in front of the residence along with a block of E Street just to the south. A special weapons and tactics team took up positions in the area while police tried to persuade the parolee, who officers called Jason, to surrender.
The man was seen walking out of the house with his hands behind his head around 2:15 p.m. Police took the man into custody.
SDPD SWAT standoff at Golden Hill. Avoid the 2800 block of Broadway. Details on @fox5sandiego pic.twitter.com/MNIbf3Vs9U

— Maria Arcega-Dunn (@FOX5Maria) July 14, 2015
28th & Broadway closed as #SDPD SWAT tries to get suspect to give up. pic.twitter.com/j5q6QYsedi

— John Gibbins (@JohnGibbinsSDUT) July 14, 2015
This story will be updated as information becomes available.