This is an archived article and the information in the article may be outdated. Please look at the time stamp on the story to see when it was last updated.
OCEANSIDE, Calif. — Police are searching for a 55-year-old man from Oceanside who has been missing for nearly a month.
John Sturkie was last seen around 5 p.m. on Jan. 4 at his Oceanside home, according to police. Sturkie's wife said he came home in a rush and said he planned to go to the beach. His phone was tracked to El Cajon on Jan. 5 and 6, until his phone died.
Police say Sturkie frequents Palomar Mountain, Julian, Brawley/Calipatria and mud caves in Anza-Borrego.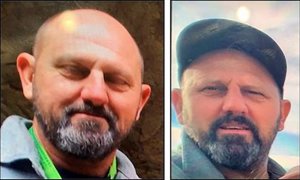 He is described as 6'5″ and 243 pounds. He has blue eyes and is bald with a salt-and-pepper goatee. His wife said she last saw him in a black knit hat, a gray fleece and tan pants. He drives a 2015 silver Toyota Tundra 4WD with lift kit and California license plate No. 62517F2.
Anyone with information should call Elizabeth Bunn of Oceanside Police Department at 760-435-4069 or email ebunn@ci.oceanside.ca.us.