This is an archived article and the information in the article may be outdated. Please look at the time stamp on the story to see when it was last updated.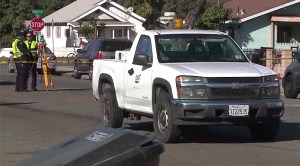 SAN DIEGO — Investigators determined that the driver of a San Diego Gas & Electric truck was at fault for a traffic accident that killed a mother of four and injured two preschoolers on a Shelltown-area road this week, a police spokesman disclosed Friday.
The investigators concluded that inattentiveness on the part of the utility worker led to the crash that fatally injured 39-year-old Ana Herrera Rodriguez on Wednesday, SDPD public-affairs Lt. Kevin Mayer said.
The woman was struck shortly after 7:30 a.m. as she and the children were crossing the 3900 block of Cottonwood Street. She died at UCSD Medical Center in Hillcrest less than an hour later.
The 4- and 5-year-old girls, the younger one Herrera's daughter, were treated at Rady Children's Hospital for minor injuries, including abrasions.
There was no evidence that the 55-year-old SDG&E employee, whose name has not been released, was speeding or intoxicated at the time of the crash, the lieutenant said.
Traffic detectives will forward the case to the City Attorney's Office, which will determine whether prosecution is merited.
It was the second of two pedestrian fatalities this month involving a vehicle owned by the regional utility.
On the evening of Jan. 6, an SDG&E truck hit 54-year-old transient Robert Fisher in the 100 block of Jamacha Road in downtown El Cajon. The driver, Hector Hoyt, 55, allegedly fled, after which another vehicle struck Fisher. He died at the scene.
Hoyt, who no longer works for SDG&E, was arrested Wednesday afternoon on suspicion of felony hit-and-run. He posted $50,000 bail the next day and was released on his own recognizance.