This is an archived article and the information in the article may be outdated. Please look at the time stamp on the story to see when it was last updated.
SAN DIEGO – A San Diego police officer was rushed to UC San Diego Medical Center Tuesday night after being intentionally run over by his own police cruiser in Barrio Logan, police said.
It happened shortly before 10:30 p.m. in an alley behind the 3600 block of Main Street near Una Street, just a few blocks from Naval Base San Diego.
San Diego Police Lieutenant  Mike Hastings said 25-year police veteran Jeffrey Swett and another officer were investigating a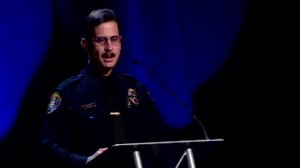 burglary attempt at a nearby home. Swett was speaking with a witness in the alley behind the home when the burglary suspect jumped into his running police car.
The suspect, identified as 25-year-old Frank William Bogard, then intentionally drove the car toward Swett, throwing him onto the hood of the car. Bogard continued to accelerate with the officer still on the hood, police said.
A second police officer, fearing for Officer Swett's safety, opened fire on Bogard. Swett then rolled off the hood onto the ground. A bullet hit Bogard, causing him to crash the stolen police  cruiser into a nearby electric pole, Lt. Hastings said.
A police dog helped get Bogard out of the vehicle so officers could arrest him.
Officer Swett was taken to UCSD Medical Center in serious condition. His injuries are non-life-threatening.
SDPD Chief Shelley Zimmerman visited Swett at the hospital Wednesday afternoon.
"He is conscious – I was able to talk with him. I was able to talk with his family members and everybody is very grateful that, as serious as this is, that it isn't worse," said Zimmerman.
Bogard was taken to Alvarado hospital for his gunshot wound before being moved to Scripps Mercy hospital around 3:30 a.m. Wednesday. No information was immediately available about his condition.
Homicide investigators were expected to remain on-scene most of Wednesday morning to determine what occurred during the burglary of the residence.
Anyone with information is asked to call the Homicide Unit at  619-531-2293 or Crime Stoppers at 888-580-8477.
Download Fox 5 iPhone app  |  Download Fox 5 Android app