This is an archived article and the information in the article may be outdated. Please look at the time stamp on the story to see when it was last updated.
SAN DIEGO — The boyfriend of a Phoenix woman who was found dead in an Allied Gardens apartment Friday afternoon is wanted by San Diego Police, according to homicide detectives.
Krystal Mitchell, 30, was pronounced dead at the apartment of an acquaintance in the 7600 block of Mission Gorge Road at about 1:30 p.m. by paramedics who responded to a 911 call of a woman not breathing, according to Lt. Manny Del Toro of the SDPD homicide unit.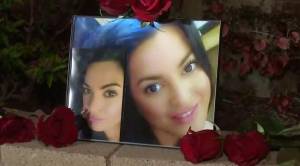 She was in San Diego visiting friends and was last seen with her boyfriend, Raymond McLeod, 32, also of Phoenix. McLeod, who was described by detectives as a "person of interest," left the area in a white, four-door Infinity or Lexus with paper Arizona license plates, Del Toro said.
While a cause of death had not yet been released by the San Diego County Medical Examiner's Office, homicide detectives were handling the investigation. They released a photo of McLeod and indicated that he likely fled to Mexico, according to Del Toro.
"He is a creep. He is a monster and there's not even a room for him in hell," Mitchell's mother, Josephine Wentzel, told FOX5.
"He was a marine recruiter? He's a coward. He's running like a scared animal and I hope he feels every tiny little terror as he runs. He will pay for this. She's not going to die in vain. So help me God," Wentzel said holding back tears.
McLeod's car may have been abandoned near the border or at an airport car rental location by McLeod, who was described as a former Marine who may have access to a weapon, Del Toro said.
McLeod also goes by the name "RJ" and was described as white, muscular, 5-feet-11 inches tall, weighing 215 pounds and with a birth date of October 3, 1983.
Anyone with information was asked to call the San Diego Police Department non-emergency line or Crime Stoppers at 888-580-8477.