This is an archived article and the information in the article may be outdated. Please look at the time stamp on the story to see when it was last updated.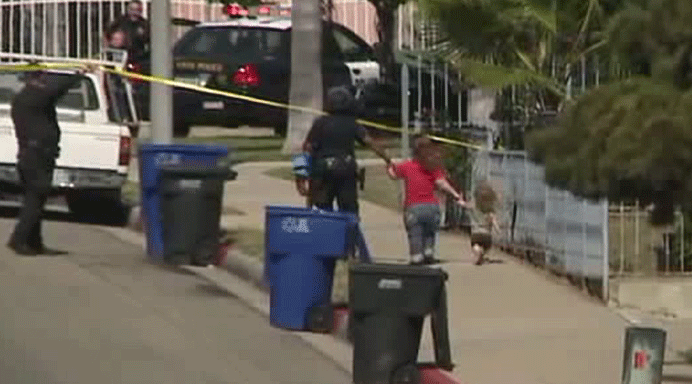 CHULA VISTA, Calif. — A man who shot and killed a neighbor at a South Bay apartment complex Thursday has taken his own life, police said.
The shooting suspect's wife and two kids were seen running away from a South Bay apartment complex Thursday after being holed up inside a unit with the shooting suspect for over seven hours, police said.
The man's wife of one year, 31-year-old "Laura" and two children under the age of 10, were escorted out of the apartment around 3:40 p.m.
At least three shots were fired at 160 E Street around 7:40 a.m. and may have come from a high-powered rifle, according to Chula Vista police. The shooting victim was "down" in the parking lot near the apartment building, police said.
Authorities have not been able to recover the victim's body due to its proximity to the suspected shooter's apartment, according to Turner.
At least 41 adults and 15 children were evacuated from the apartment complex and taken to the Norman Park Senior Center at 270 F Street. A team from Red Cross is assisting the evacuees.
#BREAKING #ChulaVista #SWAT standoff…police are evacuating residents. They're getting on the MTS bus in pic pic.twitter.com/yowQDsJNDk

— Sharon Chen (@SharonChenTV) May 28, 2015
Police surrounded the apartment and communicated with the suspect identified as 42-year-old "Michael," Turner said in a 1 p.m. news conference. Investigators were using all methods to get him to surrender safely. Turner said.
"We understand there are two sides to every story. Michael please pick up the phone so we can talk about how we are going to resolve this situation," Turner said during the news conference, in an attempt to address the suspect directly.  "This is very important for the safety of everyone involved.  We want this to come to a peaceful resolution."
Turner said the alleged gunman and shooting victim are neighbors, but what caused the shooting was unknown.
https://twitter.com/sharonchenfox5/status/603988831419834368
The standoff caused several road closures. East Flower Street at westbound E Street and 200 block of E Street was shut down, and all of 2nd Avenue was shut down to F Street.
Download Fox 5 iPhone app  |  Download Fox 5 Android app