This is an archived article and the information in the article may be outdated. Please look at the time stamp on the story to see when it was last updated.
SAN DIEGO — A man was stabbed to death during a fight Friday with several other people in the parking lot of a Kentucky Fried Chicken restaurant in the Stockton neighborhood of southeast San Diego, a police lieutenant said.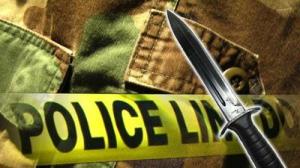 Police were able to detain for questioning a man and a woman leaving the scene in a blue sedan, whom witnesses said participated in the fight, said San Diego police Lt. Jorge Duran.
Police were dispatched at 3:10 p.m. to the restaurant, 3195 Market St. where they found several people rendering aid to a man lying on the ground bleeding from a stab wound to the chest, Duran said.
Paramedics rushed him to a hospital, where he later died, the police detective said.
Witnesses told police that the victim as well as several other men and women were involved in a fight in parking lot of the restaurant.
San Diego police detectives asked anyone who saw the fight to call them at (619) 531-2293.