This is an archived article and the information in the article may be outdated. Please look at the time stamp on the story to see when it was last updated.
ENCINITAS, Calif. – Two men were arrested Friday in the attempted kidnapping of a 15-year-old girl in Encinitas, a sheriff's lieutenant says.
After receiving a tip, deputies pulled over a truck in the 1500 block of Summit Avenue in the Cardiff area around 11 a.m. that matched a vehicle description released by police following the kidnapping attempt. Deputies then arrested the driver, 27-year-old Christopher White, who was depicted in a sketch released by police.
Shortly before 7 p.m., detectives arrested 28-year-old Jeremiah Owens at his home in Escondido.
White and Owens were booked into Vista Jail and face charges of kidnapping with the intent to commit rape, false imprisonment, assault with the intent to commit rape and conspiracy.
Around 5:30 p.m. Wednesday, the girl was waxing her surfboard in the driveway of her home in the 1600 block of Neptune Avenue. She told deputies a man came up from behind her, pinned her to the ground and tried to drag her toward a pickup truck parked on Grandview Street, where another man was waiting inside.
She fought back and ran inside her home, uninjured.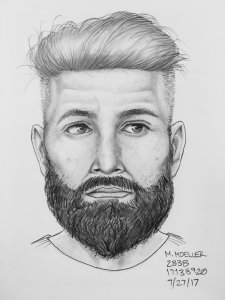 The two men drove off in a blue older model pickup truck with a suspension lift, metal racks and possibly an extended cab.
The girl described the man who grabbed her as white, between 20 and 30 years old and approximately 5-foot-10-inches tall with a skinny build. He was wearing board shorts.
The man waiting in the truck, seen in the sketch, was described as white, between 20 and 30 years old and approximately 5-foot-11-inches tall with a medium build. He has light brown hair and a long brown beard.
Deputies say the attempted kidnapping appears to be an isolated incident.
Anyone with information is asked to contact Crime Stoppers. Call 888-580-8477 to remain anonymous and be eligible for up to a $1,000 reward for information that leads to an arrest.