This is an archived article and the information in the article may be outdated. Please look at the time stamp on the story to see when it was last updated.
SAN DIEGO — An investigation was under way Tuesday in Chollas Creek, where a residential garage fire led authorities to discover an indoor marijuana farm along with several puppies, authorities said.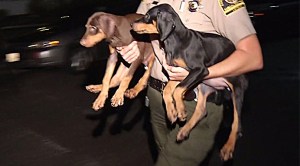 The fire at 5200 block of Auburn Drive was reported at 11:25 p.m. Monday and knocked down 10 minutes later, according to a San Diego fire-rescue dispatcher.
Several marijuana plants, possibly up to 80, were discovered inside the home once the fire was out, San Diego police Sgt. Robin Rose said. Authorities also seized several dogs, mostly small breeds, from the home.
A man who lives in the home with a woman and their 3-month-old child was arrested. According to police the man had set up a system to steal electricity from a source outside the home to power his marijuana grow, and the crude set up sparked the blaze.
Investigators said the family was living in the kitchen and living room of the home. All the other rooms were being used to grow marijuana and house puppies, they said.
Paramedics took the baby to Rady Children's Hospital to be checked out, the fire-rescue dispatcher said