This is an archived article and the information in the article may be outdated. Please look at the time stamp on the story to see when it was last updated.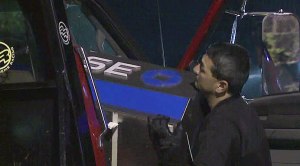 LA MESA, Calif. — Police and FBI agents arrested three thieves who had ripped an ATM machine from its moorings and were preparing to drive off with it on a flatbed truck, officials said.
The bust took place at about 3 a.m. at a Chase Bank ATM near Grossmont Center Drive and Murray Drive.
Officers at the scene would provide few details about the operation, but police radio traffic indicated that FBI agents were watching the thieves from a nearby shopping center as they used a flatbed tow truck to tear the ATM from its concrete mounting.
After the robbers loaded the machine onto the tow truck, unmarked squad cars moved in. Agents arrested two people at the scene, but a third suspect ran and was captured inside a nearby parking garage, agents said.
The FBI was planning to release more information later in the day.
If anyone has information concerning this attempted theft please contact the FBI at 858 565-1255.