This is an archived article and the information in the article may be outdated. Please look at the time stamp on the story to see when it was last updated.
Bike thefts continue to be a problem in San Diego, which is understandable, considering how many people like to cruise on two wheels, but cops are fed up. To deal with the issue they are adopting a new investigative tool that will bait the bad guys and catch them in the act.
"You have to not only lock it up around the middle but you have to get the wheel too, because otherwise they'll just steel the wheel from your bike."  Kate Hamilton lives in Pacific Beach, she's talking about her bike and the steps she takes to make sure it isn't stolen.
"I've got one of these locks you wrap it around the wheel and the frame. Tighten it up with a really weird code that's not easy to guess."
Millions of bikes are stolen every year across the county. To be fair it's what law enforcement calls a crime of opportunity because people leave them unlocked, but in Pacific Beach, bike thefts accounts for a good portion of their overall crime, and now the cops are fighting back – using bikes as bait to catch the bad guys in the act.
"It is a GPS technology h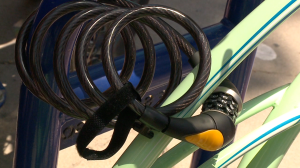 idden in several bikes, we locked them in a secure place, in several different areas," said Lt. Tom Underwood, adding "in this it's the beach area."
For obvious reasons officers don't want to reveal exactly what the device looks like or where it's hidden on the bike, but once it's tripped it will only take minutes for officers to track them down.
"Within one week of trying out the technology we had two guys in custody that were out there stealing bikes."
Right now it's just a small scale pilot program, but they expect funding for a full roll out mid summer. Like a lot of Pacific Beach residents, Patrick Steers uses his bike instead of a car. It's been stolen 3 times.
"You have to lock them up, that'll help," explains Steers, "but get good lock – not one of those cheap ones."
And that, say the cops, is the best defense.
"Wherever they lock it up," laughed Lt. Underwood, "to make sure it's secured to a strong structure like a medal pole or bike wrack."
"I guess its probably a good thing to put it on something that is nailed down," said Kate Hamilton, "that's probably something I'll start doing."