This is an archived article and the information in the article may be outdated. Please look at the time stamp on the story to see when it was last updated.
SAN DIEGO – Nineteen executive orders are expected to be announced Wednesday by President Obama in a major push to curb gun violence.
"It's time for reasonable gun control reform," said San Diego Police Chief Willam Lansdown.
Lansdown said he was one of 60 chiefs across the country that weighed in on what could be done to slow US gun deaths that surpassed 31,000 in 2010.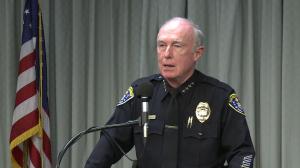 "Stricter back round checks, a ban on assault weapons, and a data base that tracks guns, needs to be the starting point," he said. "My officers should never be out gunned, but sometimes that's the sad realty."
Gun advocates said with 300 million guns in the United States there is little that can be done.
"This talk of gun control has starred a frenzy of buying and it's becoming difficult to keep product on the shelf," said Andrew Romaro from The American Shooting Center. "There are already plenty of laws that regulate guns more restrictions will infringe on gun rights."