This is an archived article and the information in the article may be outdated. Please look at the time stamp on the story to see when it was last updated.
EL CAJON, Calif. — A man who refused to yield to police Thursday led a rush-hour pursuit over busy El Cajon streets before finding himself boxed in by squad cars and under arrest.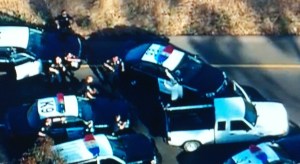 Officers chased the man, who was driving a small white pickup truck, over various downtown roads in the East County city, mostly driving a low speeds, according to police. At one point, he veered over a sidewalk to get around a cruiser that had pulled into his path.
Shortly before 6 p.m., officers were able to use their vehicles to force the fleeing man to a halt and take him into custody on southbound El Cajon Boulevard, near Interstate 8.
The man, whose name was not immediately available, was allegedly wanted on suspicion of assaulting an officer.