This is an archived article and the information in the article may be outdated. Please look at the time stamp on the story to see when it was last updated.
EL CAJON, Calif. — A driver was killed when he lost control of his car and crashed while trying to get away from police in El Cajon early Tuesday.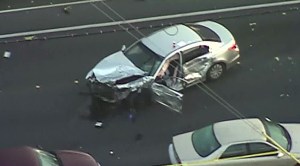 It was not immediately clear why police tried to pull over the silver Honda sedan, but instead of stopping, the driver sped off down surface streets.
The chase ended on Madison Avenue near Main Street about 3:30 a.m. when the driver smashed into several parked cars. The Honda's airbags deployed, but the driver was ejected from the car.
An ambulance crew that happened to be nearby tried to aid the driver, but he died at the scene, police said.
The man's identity and the reason he would not pull over were under investigation, police said.