This is an archived article and the information in the article may be outdated. Please look at the time stamp on the story to see when it was last updated.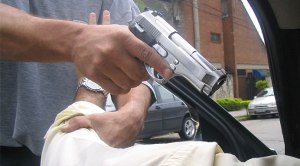 SAN DIEGO — Two young men were in custody Friday accused of carjacking two women in San Ysidro, police said.
The women, both in their late 30s, were sitting in a 2006 Ford Mustang in 4400 block of Camino De La Plaza around 6:45 p.m. Thursday when the men walked up to them, according to San Diego police Officer David Stafford.
The men told the women to give them the car or they would be shot, he said in a statement. The women complied and the men fled northbound on Interstate 5 in the Mustang.
A short time later, a police sergeant in the area heard a radio call about the carjacking and spotted the Mustang at Dairy Mart Road and West San Ysidro Boulevard. He stopped the men and took them into custody, Stafford said.
They were booked into jail on suspicion of carjacking.