This is an archived article and the information in the article may be outdated. Please look at the time stamp on the story to see when it was last updated.
EL CAJON, Calif. -- With the help of a fast-acting bystander, police arrested a man accused of going on a bizarre rampage in downtown El Cajon Wednesday, destroying property, trying to rob an armored truck driver and hitting an officer with a hammer.
Witnesses at the Jack in the Box on Main Street were startled to hear the man suddenly threaten the driver, who was inside the store collecting cash. Suzaine Khon was holding her two-year-old son, ordering food at the counter, when the man burst in.
"He was telling her to give him the cash: 'Give me the bag with the cash,'" Khon told FOX 5. "He was just saying all types of crazy stuff. Hitting the windows and he was just yelling." Once she realized what was happening, Khon ran outside to let her boyfriend know.
The man started swinging the hammer at the restaurant's windows, shattering panes of glass at the fast food joint and shouting incoherently.
Police were notified of the rampage when armored truck personnel activated an alarm. The man took off running as officers swarmed the area and tried to take him down. The fleeing suspect made a bee-line for Arthur Stanos and his family, visiting from out of town.
"I tried to trip him but I slipped," Stanos said. Then he watched in horror as the man struggled wildly with police: "He ended up hitting a police officer in the head with a hammer; busted his head open."
Stanos decided he had seen enough. "He ran back towards me (and) I just said, 'You know what, that's enough.' I just grabbed him by his neck, took him down and held him down, and that's when the police swarmed us."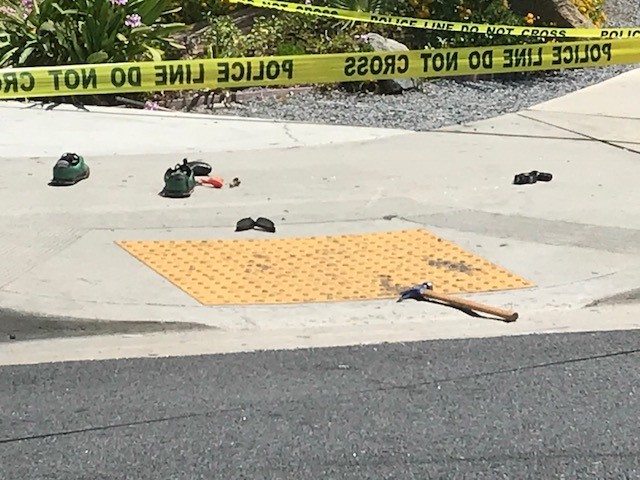 The suspect, identified as 30-year-old Robert Dilly was finally arrested. A woman holding an ax who had accompanied Dilly at the scene was also arrested.