This is an archived article and the information in the article may be outdated. Please look at the time stamp on the story to see when it was last updated.
CHULA VISTA, Calif. — A Hilltop High School ninth-grader and his father were arrested Wednesday after the teenager allegedly brought a loaded handgun onto the campus, showed the weapon to a number of classmates and made vaguely threatening comments, authorities reported.
An assistant principal at the Chula Vista secondary school called police about 11 a.m. to report that several students had seen a 14-year-old student displaying a handgun in class, Lt. Fritz Reber said.
"They claimed the suspect student … made statements indicating that the gun was loaded and that he could potentially use (it) to shoot someone at school," Reber said.
When officers went to the boy's classroom and summoned him, he stood up and reached for his backpack, though not in "an aggressive way," the lieutenant said. They rushed over and took him into custody without incident. Inside the suspect's book bag was a loaded .44-caliber revolver that belong to his father, Zacharia Dow, according to police.
Dow, 36, was arrested at 6 p.m. after turning himself into the Chula Vista Police Department, police said. He is a convicted felon and was in possession of at least one firearm.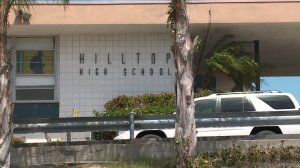 Detectives served a search warrant at the home of the teenager and found an unsecured 22 caliber semi-automatic pistol under a bed in one of the bedrooms, Reber said.
Dow is under investigation for allowing a juvenile access to a weapon. He'll be booked in jail Wednesday night.
The arrested teen was expected to be booked into juvenile hall on suspicion of bringing a loaded firearm onto school grounds.