This is an archived article and the information in the article may be outdated. Please look at the time stamp on the story to see when it was last updated.
SAN DIEGO — A bomb squad disarmed a World War II-era hand grenade that was found Monday underneath a house in Barrio Logan.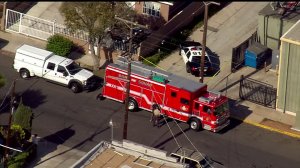 Plumbers working beneath a home in the 3100 block of Boston Avenue reported seeing the grenade around 4:15 p.m., according to San Diego police watch commander.
A team of bomb technicians deactivated the grenade, then took it to Marine Corps Air Station Miramar for disposal, the San Diego Fire-Rescue Department spokesman Lee Swanson said.
It was unclear how the weapon wound up beneath the home.
Authorities did not block any roads and no one was injured.