This is an archived article and the information in the article may be outdated. Please look at the time stamp on the story to see when it was last updated.
SAN DIEGO – A jetliner believed to have struck at least one bird in flight made a safe emergency landing at Lindbergh Field Monday evening.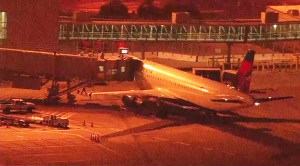 The pilots of Delta flight 2780, headed to Salt Lake City, reported the impact to emergency personnel shortly before 5 p.m., according to the San Diego Fire-Rescue Department.
"All of a sudden there was just a loud thump," said David Schwarm, passenger. "Then the whole plane started vibrating, just a horrible vibration."
Schwarm said passengers were notified the plane would be returning to San Diego.
"They came on and said we had a bird strike," said Schwarm.
No injuries have been reported, according to San Diego-Fire Dispatch.
The plane touched down safely at the airport about 5:15 p.m., a dispatcher said.
"It was very quiet and very calm and nobody got very upset," said Martha Schwarm, passenger.
Fire Officials reported there was no major damage, though passengers said they heard differently once they disembarked.
"The message that we got as we were up at the counter," said David Schwarm. "They said it was a pretty major hit. They said that one of the fins on one of the engines had been ruined and it had done a lot of damage to the airplane."
Passengers were given several options. Some were rebooked on a new flight to Salt Lake City, some took flights on other airlines, and the rest will leave on a flight early Tuesday morning, according to a Delta agent. The passengers who decided to stay the night in San Diego were given hotel vouchers.
"The Delta crews handled it well, on the plane and on the ground," said Brad Vaughan, passenger.