This is an archived article and the information in the article may be outdated. Please look at the time stamp on the story to see when it was last updated.
PATCHOGUE, N.Y. — Officials say a pit bull mix deemed "sociable" on behavioral tests was euthanized after viciously attacking his new owner's teenage daughter on the day he was brought home.
Newsday says 40-year-old Stephen Neira bought Alex on Thursday after seeing him on a website for rescuing "death row" pets.
"We were so excited to have a dog and be able to give it a new chance at life," said Neira, whose family home has a lush, expansive backyard perfect for an active dog, PIX11 reported.
Alex was scheduled to be put down in 22 minutes when Neira bought him at the Animal Care Centers of New York City, and took the 42-pound dog to his Patchogue home Sunday.
"He ran up to the back door wagging his tail, the kids were there with their iPads taking pictures," said Neira.  "When I opened the back door he shot all the way through the house straight to the living room and then all the way back, and on his way out my oldest girl was standing in the corner and with no hesitation, no sniff, right from running jumped right in to go for her, right at the face."
Neira said he grabbed the dog, which had sunk its teeth into the 16-year-old's face and arm, which she had raised instinctively to protect herself.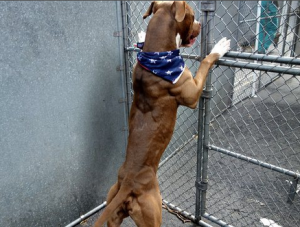 "After I threw the dog — I thought it had passed out from me choking him — he bounced right back up and pinned me up against my own gate," said Neira.  "I fought with him there, kicking him, trying to keep him back, and finally my neighbor opened the gate grabbed me and pulled me out of the gate."
The pit bull had to be shot with two tranquilizer darts by Suffolk police before it finally collapsed on the grass
The girl remained hospitalized Monday after undergoing plastic surgery at Stony Brook University Hospital.
Police took Alex to the Brookhaven animal shelter, where the 2-year-old canine was euthanized.
PIX11 News has reached out to the animal shelter for comment.
According to Alex's profile on Urgent Pets on Death Row, the site he saw Alex on, the 2-year-old stray's behavior was classified as "average."
Alex did not show any concern during the handling and resources of the behavior assessment but he show a bit of concern inside the shelter. When he's off leash, he is friendly with other dogs. But when he is on a walk or when he's in the kennel he showed barrier frustration and barks at other dogs. The behavior department feels that he can go to an Average home.