This is an archived article and the information in the article may be outdated. Please look at the time stamp on the story to see when it was last updated.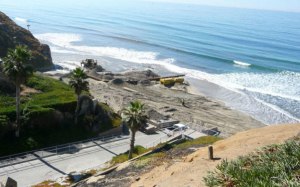 SOLANA BEACH, Calif. – A North County beach sand replenishment project was suspended Wednesday evening after an onshore pipe exploded, officials said.
San Diego Sheriff's deputies responded to reports of an explosion at a beach at Fletcher Cove in Solana Beach around 4:30 p.m., a watch commander told Fox 5. When they arrived, investigators discovered that a pipe exploded, yet no one was injured and none of the properties along the beach were damaged.
The incident involved a San Diego Association of Goverments onshore pipe at Fletcher Cover and caused investigators to shut down the Regional Beach Sand project, SANDAG spokeswoman Colleen Windsor said.
"Fortunately no one was hurt and a full investigation has been launched to find out the cause of the accident," Windsor said.
The beach replenishment project is placing sand on eight San Diego County beaches. The Solana Beach portion of the project began on Sunday, November 4 and was expected to finish in six days.