This is an archived article and the information in the article may be outdated. Please look at the time stamp on the story to see when it was last updated.
SAN DIEGO – A drone operator was tracked down by police after his drone flew around Petco Park during a San Diego Padres game Sunday.
A drone was seen flying into the Major League Baseball stadium during the seventh inning of the San Diego Padres game against the Arizona Diamondback Sunday. Moments later, it crashed in the upper deck seats barely missing fans as it smashed into pieces.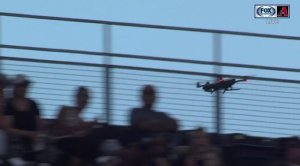 San Diego police Lt. Scott Wahl said officers at the game saw the drone fly into the ballpark, then fly back out toward a parking lot where they found the drone operator. He was only described as a man in his 20s.
"When they told him to bring the drone back he said he didn't have any control over it and that it was flying on its own. Some point after that, the drone had crashed," said Wahl. "He felt horrible. He did not intend on hurting anybody."
There were no reports of injuries, but it was a clear violation of restrictions that prohibit flying drones around stadiums.
The FAA is investigating and could fine the operator up to $1,437.
Last month, the city of San Diego adopted new drone restrictions allowing authorities to cite and fine drone operators in a case like this. The new rules don't take effect until June.