This is an archived article and the information in the article may be outdated. Please look at the time stamp on the story to see when it was last updated.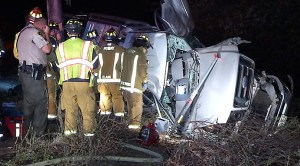 POWAY, Calif. — Rescuers were unable to save a Lakeside man who was  pinned inside his pickup after he veered off the road and crashed into a tree.
A witness saw the truck driving erratically on Espinola Road before it finally drove off the roadway into some bushes, sheriff's Deputy Landon Kuhn said.
Kuhn arrived shortly after the crash and climbed up on the truck, which was on the passenger side. The driver was wedged in the passenger side of the cab. He was unconscious but breathing, Kuhn said.
Firefighters arrived and began lifesaving efforts. It took them about an hour to cut off the roof of the cab and extract the driver, but the man was dead by then.
Kuhn said that the accident was under investigation, but alcohol and speed may have been factors in the single-vehicle crash. The driver may not have been wearing a seat belt, he said.
The driver's name was withheld pending notification of family members.