This is an archived article and the information in the article may be outdated. Please look at the time stamp on the story to see when it was last updated.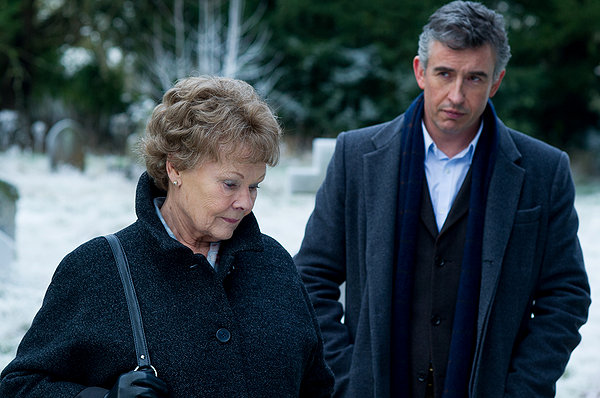 You have the wrong actors, and there just won't be chemistry. You have the wrong director, and this story comes across like a TV special.
Director Stephen Fears (The Queen, The Grifters) might go down some of the same paths you've seen before with mismatched people on a trip together, but it ends up hitting all the right notes.
The script was co-written by Steve Coogan (so great earlier this year in What Maise Knew). He's got a brilliant comedic mind and is a joy to watch in every picture he does. The screenplay was based on journalist Martin Sixsmith's book The Lost Child of Philomena Lee.
Dame Judi Dench, likely to get another Oscar nomination, plays Philomena, an Irish woman who had a baby out of wedlock in Ireland in the '50s. Her father sent her to a convent where she was basically an indentured servant, and had her child taken away and put up for adoption.
When a snooty journalist (Coogan) who recently lost his job, meets her daughter at a party and hears this story, he decides to tackle the "human interest" piece.
It seemed to be common practice in Ireland to have convents basically "sell" babies for a thousand pound donation to the church. Yet when this practice was discontinued, a convenient fire burned all the records – making it virtually impossible for mothers or their children to ever track one another down.
Much like how we watch Tom Cruise slowly change and stop being such a jerk towards his brother in Rain Man, we see Coogan subtly change. He's initially a cutthroat journalist that doesn't care about anybody but himself – yet he really starts to feel for Philomena and the predicament she's been in.
I also found it interesting that you could laugh one moment and be crying the next. The tears were earned, too.
Often with these supposed "real life stories" I'm upset when I find out much of it was fictionalized. This was one of the rare true stories that spanned a five year search, although the film shows it taking place in a mere few weeks. Everything else was accurate.
So much about this movie worked. The usually regal Dench, playing an uneducated woman that prefers cheesy romance novels, isn't dumb. She also isn't some cutesy senior citizen that we're going to chuckle at because she's never had free drinks on a plane or a good buffet at a fancy hotel.
I had at least four or five good cries in this film. The first happened when Sixsmith first started taking notes, and Philomena told her reason for wanting to find her son: "I'd like to know if Anthony ever thought of me. I thought of him every day."
Her and Coogan have the perfect facial expressions, too. When she drones on about the slippers and bathrobe provided by the hotel…or her when she talks about how evil the nuns were, and he starts scribbling notes. She grabs his hand and says, "Not that evil" as she looks down at his paper, hoping he's not going to write a scathing piece on the religion she still practices.
It's such a treat to have a drama show humor and heartbreak all in the same picture.
You'll laugh when Philomena sees a commercial for the Martin Lawrence movie Big Mama's House. It's suggested that she might like to see the Lincoln Memorial while they're in D.C. She would rather watch the movie where "The little black man, pretends to be a big black lady."
And scenes always work in a movie when somebody quotes a famous writer, and the other person has no idea what it is. In Sideways, it was Paul Giamatti quoting Bukowski. In this, Sixsmith says "We shall not cease from exploration, and the end of all our exploring will be to arrive where we started, and know the place for the first time."
Philomena replies, "That's nice. Did you just come up with that?"
"No, it's T.S. Elliot," he explains.
This movie will have religious folks either reaffirming their faith, or showing up at their church with pitch forks and torches.
It reaffirmed my faith in filmmaking, and made my place of worship – the cinema – a great few hours yesterday afternoon, in what was turning out to be a bad year for movies.
This gets 4 stars out of 5.