This is an archived article and the information in the article may be outdated. Please look at the time stamp on the story to see when it was last updated.
SAN DIEGO – Professional golfer Phil Mickelson's comments Monday regarding his effective high tax rate in California made it seem that was he considering retiring from the sport.
"If you add up all the federal and you look at the disability and the unemployment and the social security and the state… My tax rate is 62-63 percent, so I've got to make some decisions on what I'm going to do," Mickelson said in an interview with Los Angeles Times.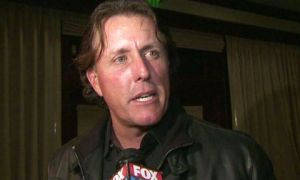 The local golf hero, who lives in Rancho Santa Fe, has made $67 million in PGA winnings and millions more from sponsorships.
Mickelson said he plans to unveil his tax plan to the golfing world on Wednesday.
"I'm not sure what exactly, you know, I'm going to do yet," he told the Times. "I happen to be in that zone that has been targeted both federally and by the state and, you know, it doesn't work for me right now, so I'm going to have to make some changes."
Longtime fans are worried that Mickelson is going to be the punch-line in a joke.
"It's surprising that he is so frustrated about paying taxes while playing golf. I mean it doesn't really sound like work to me," said Keith McKenzie, a wealth manager from Delphi private advisors.
"We are seeing a lot of business make tough choices to leave the state, but they do it quietly," McKenzie said.
———- UPDATE:
Mickelson released a statement Monday evening addressing his initial tax comments:
"Right now, I'm like many Americans who are trying to understand the new tax laws.  I've been learning a lot over the last few months and talking with people who are trying to help me make intelligent and informed decisions.  I certainly don't have a definitive plan at this time, but like everyone else I want to make decisions that are best for my future and my family.
Finances and taxes are a personal matter and I should not have made my opinions on them public. I apologize to those I have upset or insulted and assure you I intend to not let it happen again."