This is an archived article and the information in the article may be outdated. Please look at the time stamp on the story to see when it was last updated.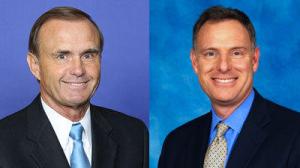 SAN DIEGO — Port Commissioner Scott Peters and incumbent Rep. Brian Bilbray have lined up new endorsements in their tight race to represent the 52nd Congressional District.
One day after being e
ndorsed in his congressional bid by former President Bill Clinton, Peters received the backing Wednesday of state Superintendent of Public Instruction Tom Torlakson.
His opponent, incumbent Brian Bilbray, R-Solana Beach, added endorsements from four major players in San Diego's life sciences industry.
The two are locked in a tight race in a district that was relocated to a more inland area during redistricting.
"Scott Peters will represent the right priorities in Washington, D.C., and education is at the top of his list," Torlakson told reporters. He accused Bilbray of voting to slash spending for federal student aid.
Clinton endorsed Peters, a former San Diego city councilman, and several other Democratic congressional candidates at an event in Irvine on Tuesday.
Bilbray, meanwhile, g
ained the support of Duane Roth, CEO of business incubator CONNECT; Joe Panetta, president and CEO of the industry group BIOCOM; Joseph Gulfo, CEO of MelaFind; and cancer re
search advocate Philip Graham.
"I confidently endorse Representative Brian Bilbray for another term because he has shown he can work in a bipartisan way to improve the innovation economy," Roth said.
Panetta called Bilbray "a tireless advocate" for increased cancer research funding by the National Institutes of Health and a more efficient drug approval process by the Food and Drug Administration.
Earlier this week, Bilbray touted a survey conducted on behalf of U-T San Diego and the University of San Diego Center for Education Policy and Law that showed him leading 47 percent to 38 percent. He said an internal poll had him up by four points last week.Recent polls in the 52nd Congressional District race are mixed.
The Peters campaign responded with its own figures that gave him with a 45-40 advantage in polling conducted by Grove Insight.