This is an archived article and the information in the article may be outdated. Please look at the time stamp on the story to see when it was last updated.
SAN DIEGO – Animal rights activists staged a downtown protest Wednesday calling for SeaWorld to release killer whales kept in captivity.
A handful of members of the group People for the Ethical Treatment of Animals placed a crate with a stuffed animal orca on the corner of Broadway and Second Avenue in downtown San Diego.
"Everything about the lives of these dolphins and orcas at SeaWorld is completely artificial and harmful to them," said PETA campaigner Mat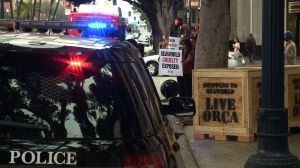 t Bruce.
"I don`t know what's going on at SeaWorld," said a passerby. "If [people] have a job like that, they probably love animals and wouldn`t do it deliberately."
Police were on hand, just in case, but the peaceful protestors passed out flyers and encouraged people to watch the movie "Blackfish," an unflattering documentary about the treatment of orcas at SeaWorld.
In a written statement SeaWorld said in part:
"The film paints a distorted picture that withholds from viewers key facts about SeaWorld – among them, that SeaWorld is one of the world`s most respected zoological institutions, that SeaWorld rescues, rehabilitates and returns to the wild hundreds of wild animals every year."
"There is no organization more passionately committed to the physical, mental and social care and well-being of animals than SeaWorld. The real advocates for animals are the trainers, aviculturists, animal care staff and veterinarians at SeaWorld."
"SeaWorld may pat itself on the back for veterinarian care for these orcas, but they cannot hide the number of deaths that happen on their watch including the deaths of trainers," said Bruce in response to the written statement.
The documentary "Blackfish" airs Thursday on CNN.