This is an archived article and the information in the article may be outdated. Please look at the time stamp on the story to see when it was last updated.
SAN DIEGO – After the producers of Valitar cancelled their horse show at Del Mar Fairgrounds due to low ticket sales, the performers were left to fend for themselves.
Producer Mark Remley cleared out 20 of the 40 horses and left town just days before the opening of the holiday spectacular.
Performers were not paid and the 20 remaining horses were left in their stalls with no plans for exercise or feeding.  That's when Valitar's director Sylvia Zerbini, who owns the remaining 20 horses, began creating a new show.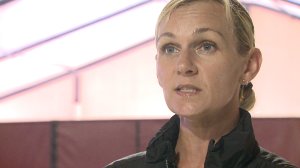 "We have over 20 horses that we need to take care. We are talented people and we feel that instead of thinking about all the bad things that just happened to us, we have to take that energy and go forward," Zerbini said.
The show has been renamed to Liberte and all the money will go support the cost of the horses and the performers, many of whom have no way to get home. They will perform at Del Mar December 7 – 9.  
"Many of them gave up a year's worth of contract work in other places and now they're all booked," said family friend and interim business manager Linda Holst. "They'll have to start over at square one so they are very displaced emotionally and physically."
Lease agreements for the artists run out November 30.  Zerbini is creating the new show while trying to find housing for her performers.
"We are trying really hard to relocate the artist," she said and acknowledged the famous generosity of San Diegans. "We have a lot of great people that are helping us find establishment around the area. Del Mar is letting us keep our horses here."
But like all great performers, the show must go on. The new show based on donations will take place in a smaller arena with a smaller routines, but the beauty and grace of the performance will remain larger than life.
"We have to stay positive. We have so many things to think about with the animals and the performance and keeping the training up to speed," she said. "If we start to think people are going to come or not come that will bring our energy and morale down, so we just have to really think positive."